Our goal with this blog is to help educate business owners about changes and trends that affect their local marketing efforts. You're running a business, you shouldn't need a to get a marketing degree to just to make smart business decisions.
There are thousands of SEO blogs available online. And they all have a lot of great information. The problem is, the majority of these blogs are targeted toward other SEO professionals. We want to give you valuable information, without all the jargon and code names (but maybe a few acronyms).
I thought I would open up by answering one of the common questions we get from potential clients, "what is a Google Business listing, and why do I need one?"
With the vast majority of consumers using Google to aid with buying decisions, it's easy to see why being listed appropriately is one of the most important marketing steps that a small business can take. That is why I feel it necessary for all business owners to know exactly what a Google My Business (GMB) listing is.
Does Google My Business Cost Money?
All business owners should know that a Google My Business listing is free. If someone "calls you from Google" and says you need to pay for your listing, they're trying to scam you. When you hire a digital marketing agency to manage your Google listing, you are buying a service called Local SEO, which is not free.
Is a Google My Business Listing a Website?
No. Your Google listing is not a website; it is a listing on Google that appears when potential customers are searching for your business name or a service you offer. It is sort of like a hub that allows customers to quickly find all of your contact info in one place directly on Google's search page.

Your website can, and should, be linked to your GMB. In fact, having a good website that is linked to your GMB will help both entities rank better.
Where Does My Google Business Listing Appear?
Let's break down the sections of the Google search engine and see where a GMB listing can appear.
At the top of Google is a section that we're all very familiar with; the ads section. The Ads section always appears at the top of a Google search. It shows paid ads for the businesses targeting you as a customer.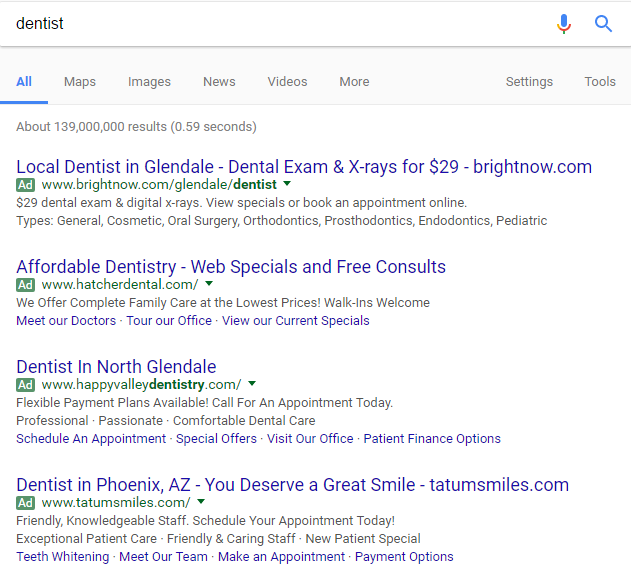 Just under the ads section, is the Local Pack. This is the first section your GMB listing can appear. The Local Pack shows the top 3 ranking local listings. This section is what it's all about. Your marketing aspirations as a business owner and our goal as a digital marketing agency is to have your GMB listing ranking in this section.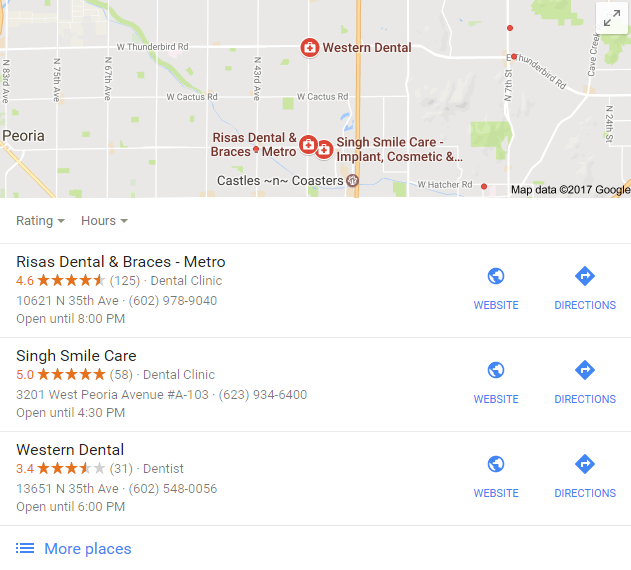 Just under this, you will see a "more places" link, which expands the Local Pack to show local business listings for pages 1 through infinity based on the query entered. This is the second place that your GMB listing can appear.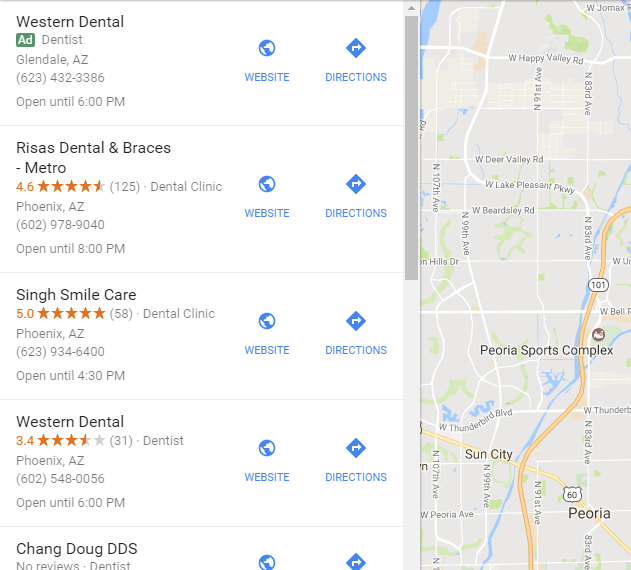 Under the Local Pack, characterized by a wall of text, is the Organic results section. This is where websites compete for ranking placement, not Google listings.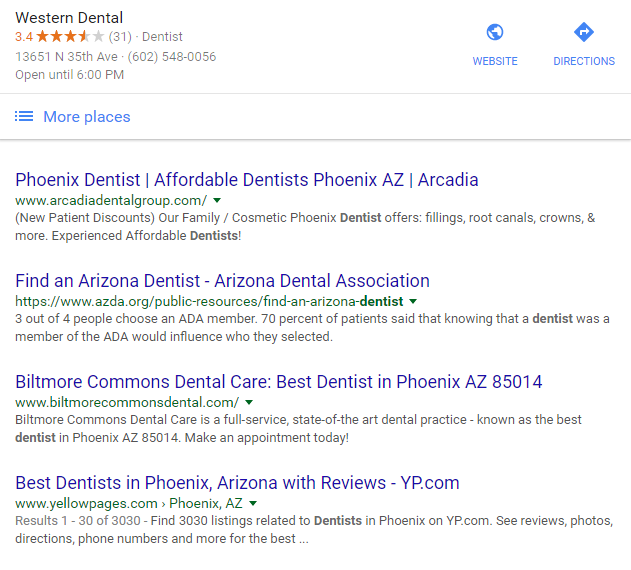 This concludes our tour of the Google search page. However, there is one more spot that your GMB listing can appear. If your business is dominating the market for the location of the searcher, your listing can appear solo on the right-hand side of the Google search; giving you 100% local visibility.
What Info Does a Google My Business Listing Show?
Now that you're familiar with the ways in which your GMB listing can be found, I want to introduce you to the separate sections of the listing.
It is important for ranking, and for your customers, that your GMB listing is filled out as completely as possible. If it isn't filled out entirely, it can be penalized by Google's ranking algorithm. Also, customers are less likely to trust the information on a local listing, if it's not complete. Your listing should have:
Business Name
Address or Service Area
Phone Number
Website
Business Hours
Photos
Reviews
Posts
Description
Lets go into these sections in a little more detail to talk about their individual importance to the overall health and optimization of your GMB.
Business Name
The GMB will display your business name front and center. It's important that you don't try to "keyword stuff" your business name on your GMB. That's a direct violation of Google's rules and will results in lowered visibility, if not suspension.
Keyword Stuffing is the act of putting a bunch of unnecessary words in your business name, that are not legally part of your business name. For example, "A Cut Above Tree Service - Landscapers, Tree Trimming, Stump Grinding, and more in Phoenix, AZ". Looks silly, right? Well, people actually do that. Don't let it be you.
Address/Service Area
Obviously, if you're a storefront business, having your address correct is extremely important. Customers have the ability to click on your Google listing to receive instantaneous GPS directions to your store. If your address is wrong, they'll never arrive.
If you're a business, such as a plumber or an electrician, and you travel to customers, your service area is the high priority. The service area listed tells Google how far away from your location you are willing to travel.
Phone Number
Just like with your address, customers have the opportunity to click to call you directly from your GMB listing. If your phone number is incorrect, I can almost guarantee that you will lose that lead. It's also suggested that you use a local area code on your phone number. Avoid using a 1-800 number or an out of state area code if you can help it.
Website
Again, customers will have the ability to click to view your website. But there is another very important reason to have a website attached to your listing. Google uses websites heavily when deciding ranking placement.
Side note: it's also very important for your website to be Mobile Friendly Website. If a potential customer is searching for your services on their mobile device, but your website is not mobile-friendly, Google may decide not to show your listing at all.
Business Hours
Your GMB will show your business hours. It will even tell people if you're opened, closed, or closing soon. There are a few reasons why it's important to list your business hours correctly.
Someone may decide not to call you if they're unsure if you're open.
If it says you're open, and someone comes by and you're not, you could lose that customer.
The more complete your GMB, the more Google trust your listing.
Photos
Adding photos to your GMB helps convert potential customers. You want them to see examples of your work, your logo, pictures of you and your team, and more. Basically, whatever you can show them to help sway them to call you.
Also, photos uploaded to your GMB can be used as minor SEO fuel. Before uploading your images, name them a keyword and target city, for example, "plumbing service phoenix az". Now when you upload that picture to your GMB, you're helping Google index it correctly.
Reviews
Reviews are incredibly important for Local SEO. If you have a lot of negative reviews, it's likely that potential customers wont call you. It's imperative to your business that you work hard on earning positive reviews.
It's also very helpful if you reply to the reviews you do receive, both good and bad. Responding to good reviews helps encourage customers to leave more reviews. And responding to bad reviews helps you share your side of the story or make amends. Just be sure to be professional.
Posts
Google Posts is a section of Google that allows business owners to post updates, sales, images, event, etc. If used correctly, Google Posts can be a powerful tool to help convert views into paying customers. Better yet, there has been chatter that suggests that Google Posts can impact ranking placement for relative keywords. At the end of the day, it should be considered important because it's another avenue to pack keyword based content into your Google My Business listing.
Description
The description section of a GMB is where you put all the information about your company. You want to share as much relevant information as possible, especially location and keywords, without making it seem like you're "keyword stuffing".
But, Do I Need One?
Yes, yes you do.
According to a Local Pack click-through study performed by Nifty, on average, 24% of consumers are clicking on the Local Pack when searching for services. Without a GMB listing, you would be missing out on a huge number of potential customers.
Also, according to Entrepreneur magazine, ranking your Google local listing has a higher return on investment (ROI) in the long term than pay-per-click (PPC) ads. Therefore, it is all-around important to invest time and money into optimizing and ranking your GMB listing.
---
Wrapping Up…
So, to answer the question… a Google Business listing is a centralized point for all of your contact information on Google. Yes, you need to have a Google listing, because, without one, you would be missing out on literally thousands of potential customers in your city, searching for services just like yours.
I hope that this article has given you a little more insight into the world of Google and online marketing. We look forward to writing many more articles that can hopefully help you make more educated marketing decisions for your business.