As a business owner, you spend a lot of time fine-tuning your brand and protecting it's reputation. When you meet potential customers, you make sure that you're presenting yourself in a professional manner to earn their trust and their business.
It's shocking to me that a lot of small business owners don't realize that their online representation is just as important as their offline one.
Having an ugly website gives potential customers the impression that you don't care or that your business is outdated, if not closed.
Aside from aesthetics, it's also important that your website be properly coded if you want it to rank in search engines for your target keywords.
Does your website got what it takes?
Website Coding
With humans, a beautiful exterior doesn't guarantee a healthy interior. Websites work much the same. While the layout of your website could be spot on, if it's not properly coded, no one will see it. The problem nowadays is that a lot of businesses use free website builders which are pretty much just a shell without any real SEO output.
A website that is built to rank will have the following coding properties:
Metadata
Metadata is information that your website needs to have in order for search engines to understand what it is and help to determine it's relevance for search queries. Without metadata, a search engine will be unsure of when to display your website in the search engine results pages (SERPs).
Metadata includes:
Page Title (Title Tag) - a header that includes your business name, keywords, and target city/state. For example:
Joe's Mechanical - Expert Plumbing Services in Phoenix, AZ
Meta Description - a condensed description of your company website, including the keywords you want to be found for and city/state.
Fast and affordable plumbing contractors serving Phoenix, AZ and the surrounding areas since 1965. Ask about our money back guarantee.
Here's what our metadata looks like in action:

Source: www.google.com
Crawlability
Search engines use "spider bots" to "crawl" the internet; digesting, organizing, and indexing new information. In order for your website to be properly recognized by search engines, you need to ensure that it is crawlable.
This means utilizing an XML sitemap. Normally bots will discover new information by following links from other pages. A sitemap is essentially a file that manually tells the bots that your website exists, what pages it has, what they are, when they're updated, and their importance - instead of waiting for them to be found naturally.
It's important that your sitemap is written precisely. Sitemap code is specific and any mistakes can hinder the crawlability of your site. You can find tools and applications that will help you write your sitemap correctly.
When you think of the accessibility of your website, imagine the spider bots literally crawling from page to page. Internal links help them transition from page to page fluidly, while broken links or dead-ends, stop them in their tracks and keep them from finding the rest of your site.
It's a good idea to check your site's crawlability periodically.
Schema
Take a moment to search for 'shakespeare's wife' on Google.
Because computers are computers, your SERPs will return images of the actress Anne Hathaway instead of the 16th century wife to the great playwright.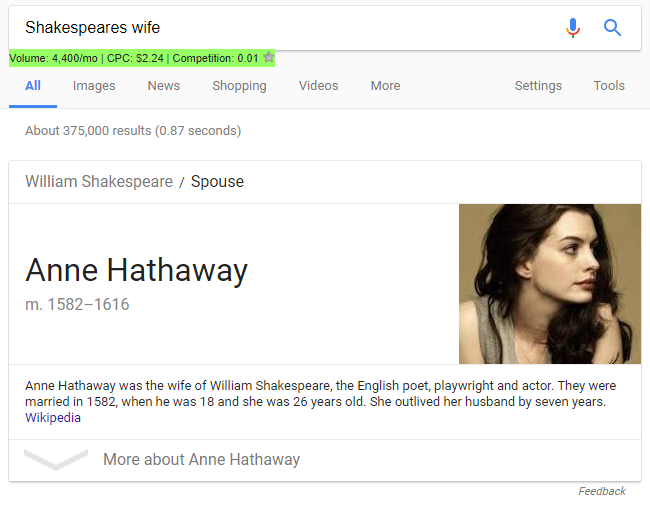 Source: www.google.com
This is where schema (skee-mah) comes into play. Schema markup tells search engines what your data means instead of just what it says. That way the semantic algorithm from the search engine can decipher if your website is about the actress Anne Hathaway or shakespeare's wife.
Once you learn schema markup, you can use it in all kinds of ways to help search engines better understand your content and display it to searchers appropriately.
Notice in this screenshot how the search engine displays the concert dates and links to the locations of those shows? That's just one example of how schema can set your website apart.

In today's mobile-first way of life, I generally subscribe to the "more is less" ideal when it comes to websites; although there are a few properties that your website should have in order to be considered great.
About Us Page
The majority of the content on your website should be written in a way that is factual and not self-absorbed. Luckily, your 'about' page is somewhere that you can unleash all of your awesomeness.
Although an 'about' page doesn't necessary help with technical SEO, it does help with conversions. Customers want to know who you are and what makes you different than the other 30 companies vying for their attention. Show that to them on an outstanding 'about' page.
Contact Page
A 'contact' page is exactly what it sounds like - a page that helps facilitate contact. This is essentially a page that provides potential customers with every method of contact for your company. You should have:
Phone number
Email
Contact form
Address
Business hours
If applicable, you should also list your service areas and/or directions to your location. Here is an example of a great 'contact' page.

Source: www.bookofthemonth.com
Service Pages
It's not as easy as having a one-page website that just says, "we're plumbers, we do plumber things".
Search engines don't understand industry services the way humans do, so in order to make sure you're ranking for your target services, your website needs dedicated service pages.
Some companies make the mistake of having one service page and listing their services as plain text on that page. Technically, that's better than nothing... but you're robbing your website of a head-start in ranking for multiple keywords organically.
Your website should have an individual page for each target service with it's own metadata focusing on that keyword.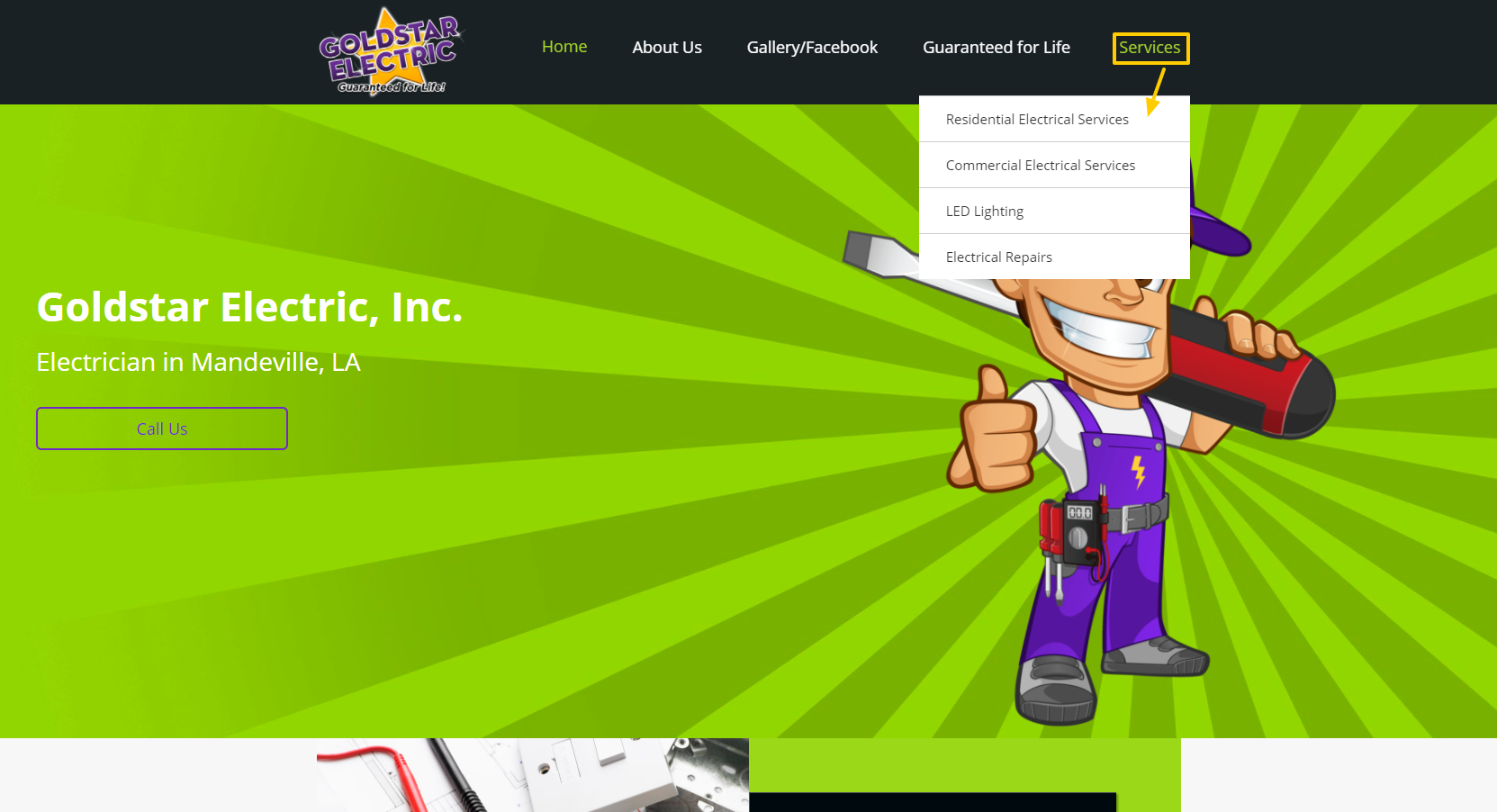 Source: www.goldstarla.com
Having separate service pages set up this way allows internal linking on your website to tell search engines what you're all about.
Headers & Footers
Your website should have global headers and footers. That means that no matter where someone is on your website, they'll be able to make their way back to your homepage (or other pages) via the header and they'll be able to find your contact information using the footer.
Here is an example of a header:

Source: hvaccontractorpinetopaz.com
Here is an example of a footer:

Source: hvaccontractorpinetopaz.com
Not only does having headers and footers improve the users experience across your website and enable easier conversions, it also helps the spiders bots that we talked about earlier crawl through your website smoothly.
Mobile Compatibility
If the rest of the world is anything like me, and studies show they are, I only use a desktop when I'm at work. Otherwise, the majority of my searches are done on my mobile device.
Mobile compatibility refers to the ability of our website to be viewed on a mobile device and it's usability when it is.
For example, if your website is extra busy with links and doesn't fit on the screen of a phone, your customers are going to suffer and most likely leave your site without converting. It's also very important that your website load quickly because we all have the attention span of a squirrel when on our phones.
You can read more about the importance of mobile friendly websites in this article about user experience and how it impacts business websites.
Don't be fooled...a website that is not mobile compatible isn't just annoying. Non-compatible websites suffer from a heightened bounce rates (lost customers), fewer conversions, and lower rankings.
Website Aesthetics
Now that we're on the topic of user experience, lets talk about what your website actually looks like.
A visually appealing and navigable website is just as important as a mobile-friendly website. An ugly, outdated website turns away potential customers just as quickly as a website loading at a snails pace.
When referring to the items on a website that the consumer actually sees, we use the term 'content'. Content can be anything from photos and videos to written text.
That being said, lets take a look at the content that your website should have.
Media
Multiple studies have proven that retention rates are higher for imagery and video. That's why it's so important that a company website takes advantage of our visual learning style.
1. Logo
Brand recognition is just as important of a factor in your marketing mix as conversions. A nice logo helps potential customers and returning customers remember your company.

Also, don't forget your business name. You would be surprised by how many business websites we've come across that don't actually have their business name anywhere on the site.
2. Photos
Photos help your customers relate to your company. They also draw attention to certain parts of your website.
Photos are especially important if you are a contractor. Potential customers are going to want to see examples of your work before they hire you.
Do you remember how websites have internal info called metadata that helps tell search engines what the website is about? Photos have the same thing. You should ensure that your photos are properly named with useful keywords and that they utilize alt-text (alternative text).
3. Videos
Video marketing has emerged as a front runner in creating leads and affecting ranking.
If you have the means, you should definitely post videos on your website. Just like photos, video has a higher retention rate and is more engaging for your viewers.
Written Content
Everyone knows that they need written content talking about their company and the services that they offer. But what you might not know is that there are some specifications when it comes to what you put on your website.
You want to ensure that your content is written naturally. With the rise of voice search, written content needs to be closer to natural speech than ever before. Write for humans.
Your content should contain keywords and semantic forms of those keywords. You should also be sure to have your target locations mentioned in your content as well.
Content on your site shouldn't be too long or too brief. This is a topic of debate, but it's generally agreed that each web page should be somewhere in the ballpark of 500 words. Longer content should be saved for blog posts.
Converters
There are a couple extra properties that you may not realize make a difference.
1. Social Sharing/Following Buttons
With the popularity of social media, a website needs to be shareable. If someone likes your website, service, or content they are likely to share it with their friends and family on social media.

You always want to ensure that you are making it easy for them to follow you on social media as well. Every point of contact with consumers is important.
2. Click to Call
I know I talk about the click-to-call ability often, but that's because I'm a true believer in it's ability to convert visitors.
Click-to-call is an extension for your website that allows the customer to simply tap on your number in order to call you whenever they're on a mobile phone.
Website Extras
There are a lot of flashy properties that you may want to add to your website such as:
Live Twitter feeds
Reviews and testimonials
eCommerce abilities
Pop-up ads
Just remember that every add-on will slow down your website. So you need to be careful about adding too many unnecessary bells and whistles to your company website.
---
Conclusion
We all know that first impressions are everything in business and I doubt the first impression you want to give your clients is a messy, disorganized office. Having an ugly website has the same effect on potential customers.
A website is basically an online storefront for your business. It needs to be a good, and attractive, representation of your company and it's values.
Having an ugly website can be just as detrimental to your company as having no website. And a website that doesn't rank, might as well not exist.
So, when you're evaluating the quality of your website, be sure to check for the basics. Make sure that you are receiving the proper coding as well as a visually pleasing design that compliments your brand.