It's like Google My Business has been going through a sort of puberty lately. A lot of changes and new features have been implemented within the last year. The majority of these updates are small changes that help Google to better segment businesses in order to provide searchers with the most relevent search results.
Earlier today, Google announced the newest feature, Posts, which is all for business owners benefit and it's awesome.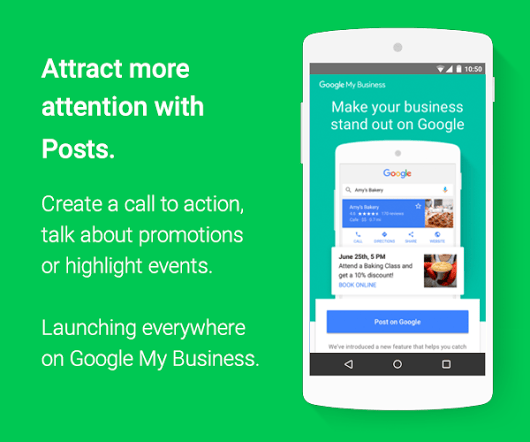 GMB Posts were tested last year as a method of political candidates to keep searchers "in the loop". The post would appear in the search results, much like a tweet. It was pretty much useless for businesses.
Luckily, GMB Posts have been completely revamped! In this article, I give GMB Posts a spin using the Staylisted GMB listing. I will give you a little peek into the available options and the completed look.
As with everything GMB related, the first thing you need to do to create a post is head over to your Google My Business account and log in.
Locate the listing that you would like to create a Post on, and click "manage listing".
You should see that a Post tab has been added to the left-hand panel.
Options
When you click to create a Post, the first thing that you'll notice is a giant area to upload a photo. The gray box that appears is 415 x 415, and seems to be the size option for the uploaded photo.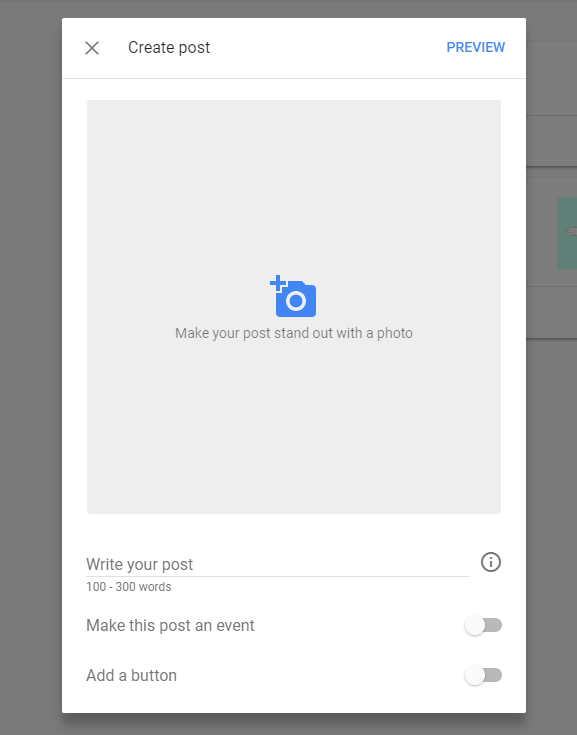 Just under that, you can write your text which needs to be between 100-300 words.
When you're finished writing your post, you can see a couple radio buttons that give you the option to make your post an event or to add a button.
When you click to make the post an event, it gives you the option to add an event title, start date and time, and end date and time.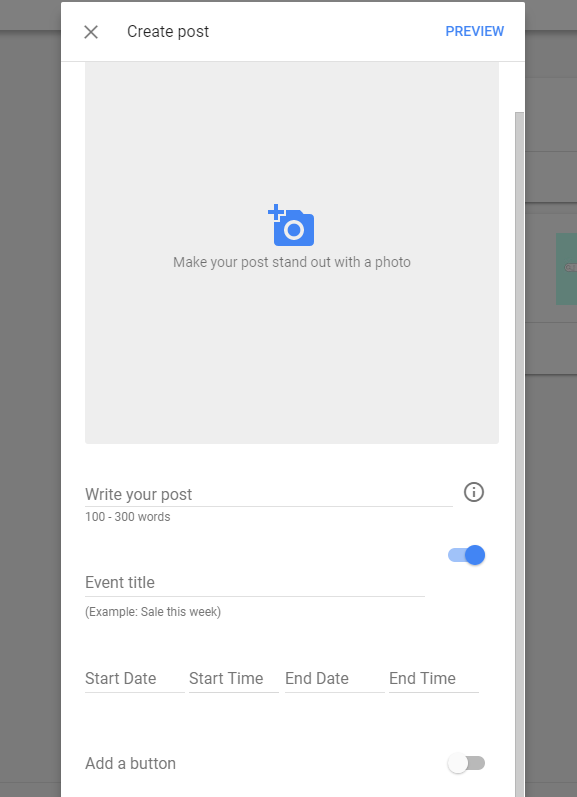 This option can be very useful for a small business that is offering in-store sales or events. For example, if you own a hair salon and you had a cancellation, you can make a Post saying that anyone who calls in and books that slot will receive a discount.
If someone is looking for a hair salon in your area and they see that post, it could be the deciding factor for them to use your business.
The next option, add a button, essentially works as a call-to-action (CTA). You are given the choice between a button that says "learn more", "reserve", "sign up", "buy" or "Get offer". The option you choose is the anchor text of the link you enter below it.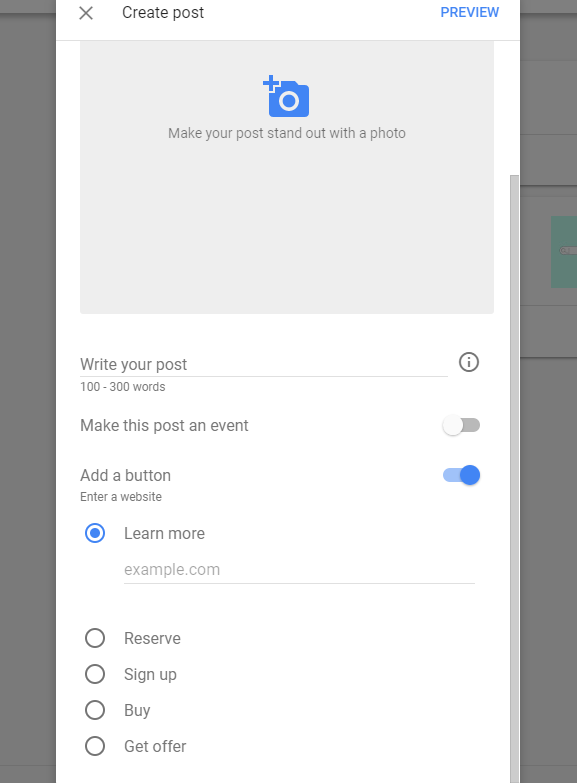 I love this CTA option. Quickly directing your potential customers to deals and important information give you a greater opportunity to convert them. You pretty much get to explain to them why they should visit your website, instead of just hoping that they click your website link.
You can also ensure that they are brought to a landing page that has the most pertinent information on it for earning their business.
The CTA and Event options can be used together or separate.
Once you're finished creating your Post, it'll give you a preview.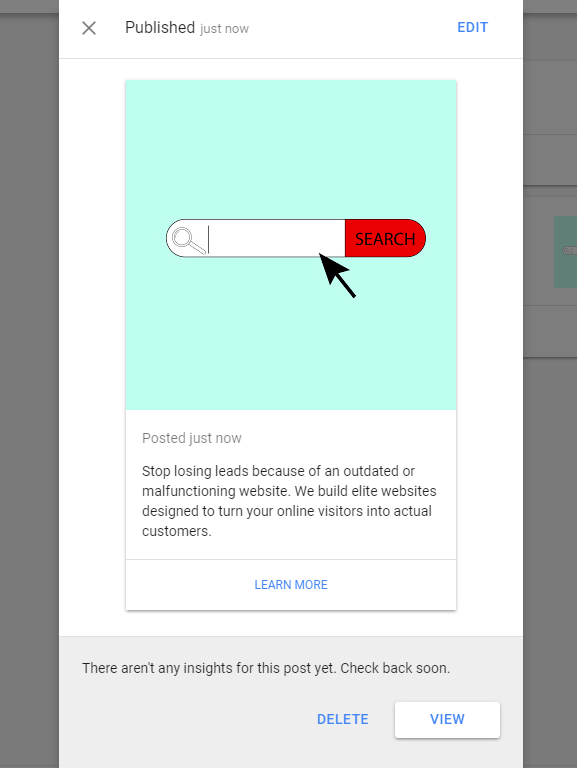 However, the post doesn't really look like the preview in the Google search. Here is what our looked like when live in search.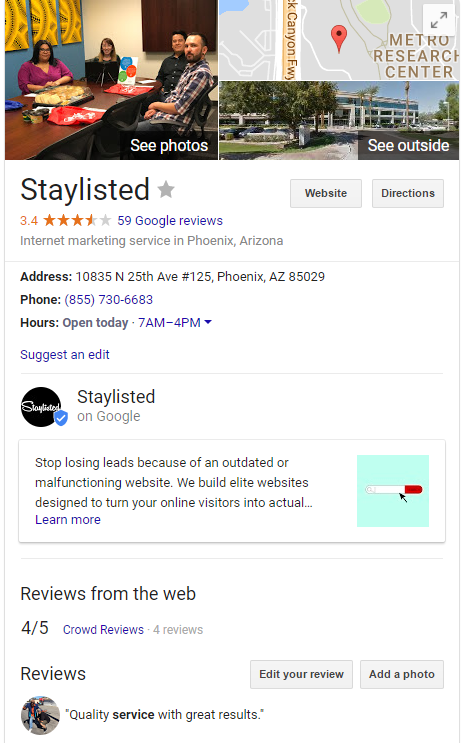 You can create multiple posts. The newest post will appear in front of the older one, creating a timeline affect.

Insights
Once your post is created, you'll notice that your GMB dashboard has a new block section for Posts. It will show your most recent post and give you options to create a new one from there or view previous posts.
As of right now, it looks like there are no Insights available as to the amount of times your CTA has been clicked. I would assume that Google will either implement a Post Actions Insight, or combine clicks on your CTA as clicks to your website.
Time will tell.
Thoughts
While I am very jazzed about this GMB Posts feature, I am left wondering how many people will actually see the post. It looks as though the post only appears when your listing is alone, and not in the Local Snack Pack or the Maps section.
If this continues to be the case, that means that most likely the only people who will see your post will be existing customers and people searching for your business by name.
While it can be still useful to present these people with sale options and CTAs, I feel that this feature should be expanded to show posts in search engine results pages (SERPs) so that small business owners can reach new customers primarily.
All in all, I'm happy with the GMB Posts feature and I'm excited to see it evolve.
For more information on GMB Posts, you can visit Google's Help center.