Google Insights are search statistics that are available for Google My Business listings (GMB) that allow the business owner the ability to assess the performance of their listing.
It's important for business owners review their Google My Business insights on a regular basis in order to determine if new marketing strategies are working and to track seasonal trends.
Where do I Find GMB Insights?
Google My Business insights are found inside the GMB dashboard of a listing that you have access to. Just click the "insights" found on the left panel.
How Customers Search for Your Business
Direct Searches
A "direct search" is when a customer searches on Google for your exact business name or address. It's an indicator that this person already knew your business either from being a past client or other means of advertising such as print or vehicle wraps. This method wouldn't be a good indicator of whether or not your internet marketing was bringing in new searches.
Ex: Apple Store in Phoenix
Discovery Searches
"Discovery searches" are when someone searched for a category, product, or service through a keyword or phrase. These are people who don't know your business by name and were not necessarily looking for you directly. Instead, they are untapped clients who need a service. These searched are a good indicator of your digital marketing efforts because they're going to see your business in this search because its ranking.
Ex: Phone store in Phoenix
Branded Searches
A "branded search" is when someone finds your business by looking for a specific brand that you sell/service.
Ex: iPhones in Phoenix
Queries Used to Find Your Business
A 'search query' is the keyword or phrase that someone types into Google in order to return results. This section of the report shows you the most popular keywords/keyphrases people are using to find your business online.
It's important to note that this section specifically only counts "unique users", meaning that it doesn't count if one user finds your business using the same keyword more than once. There search query will only count once toward the statistic.
Where Customers View Your Business on Google
In order to attribute leads to different marketing efforts, its important to know if your views have come from Local Search or the Maps section of Google. Your GMB insights will show you a graph of where your views are coming from.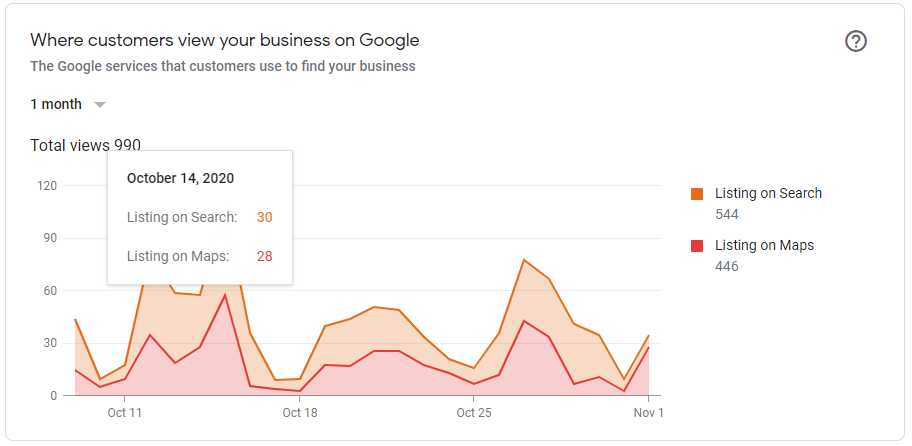 Local Search
The first item you'll see on the graph is your Google "listing on Search". This refers to your listing being shown on the top 3 results in the organic section of Google. This section is often referred to as the "local pack".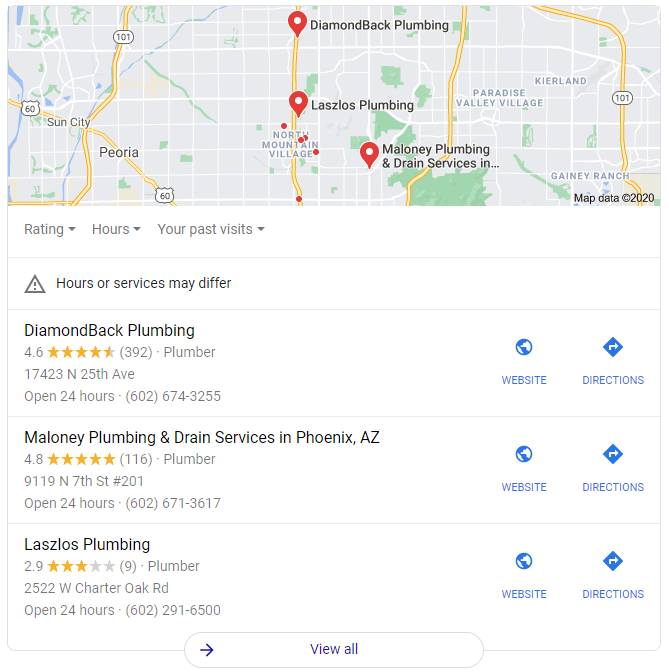 A view will be counted for this section when someone searches for a query in Google that returns your GMB as one of the results in the local pack.
Maps
The other item you'll see on this graph is the amount of times your Google listing has been seen as a search result in the Google Maps section. This means that the searcher either found your listing by clicking on the "view all" button on the screenshot above, the Maps section directly, or in the Google Maps app.
Customer Actions
A customer action is when someone who has found their way to your Google listing has clicked on something in order to find more information about your business.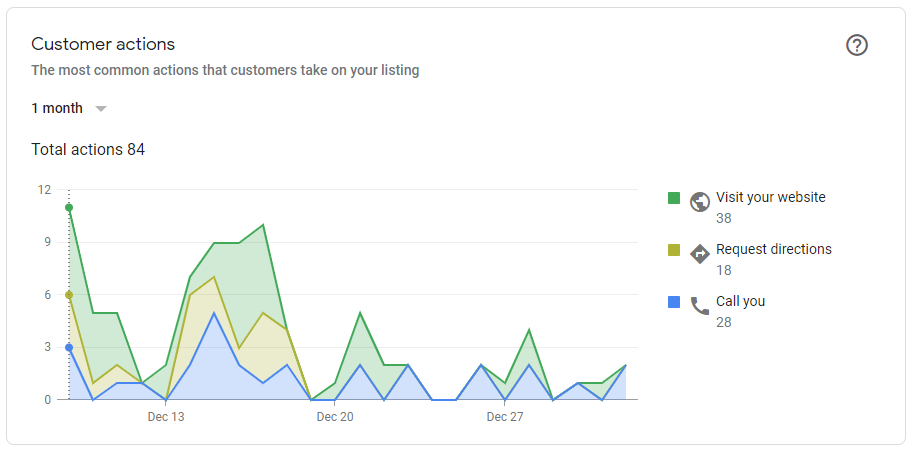 Phone Calls
When someone clicks the "call" button on your Google listing, it will register as a call to you. The system is designed not to count duplicate phone calls. That way, if the same person calls you multiple times in the same day, it won't register them more than once.
Visits to Website
This metric is affected when someone clicks on the "website" button on your Google listing. Similarly to the Phone Calls metric, this only tracks first time clicks and wont be impacted by someone who clicks it multiple times. It's important to note that this metric is only tracking clicks from your Google listing and does not serve as a total traffic count to your website.
Request for Directions
If your business has a storefront, potential customers can use your Google listing to get GPS directions to your business. When they click the "directions" button from your Google listing, it will register in this metric. Once you have enough data, you will also be able to see a map showing the general location of the people getting directions to your business. This information can be really helpful when setting up ads campaigns and deciding what parts of town to advertise in.
Photo Insights
You can also see how many views your photos on your GMB have received and compare the quantity of photos on your listing against other businesses in your industry. These metrics can be useful for ensuring that you are staying on par with your competitors.
For example: I just opened Sarah's Tacos and I'm getting a lot of views on my GMB but it's not converting to phone calls, website clicks, or directions requests. Steve's Tacos down the street is always getting new 5 star reviews and buzzing with business. When I look at my photo insights, I see that I only have 10 photos, meanwhile, the other taco shops in the neighborhood have hundreds. It's likely that people are finding my business, but when they look around for photos and don't find any, they're moving on to Steve's Tacos, seeing hundreds of photos, and deciding to eat there instead. I should add more photos of our food to my GMB.
Conclusion
Knowing how to accurately read your Google My Business insights is an important part of judging the impact that your marketing and SEO efforts are having on your business. You need to be able to take a baseline of your current statistics and be able to compare it updated reports over the course of your marketing term. This way, you can see where you have achieved growth and understand which services are benefiting you, and which may not be.