It looks as though Google is playing around with the idea of adding a call tracking ability within the construct of a Google My Business listing (GMB). When I logged into a client's GMB this morning, I noticed a new card on the 'Home' tab called "Preview call history (beta)". The subtext reads "see recent calls from Google and return missed calls easily".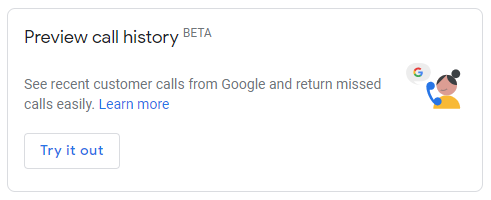 When I click the "Try it out" button, it looks as though it's not active just yet; giving me a message thanking me for my interest.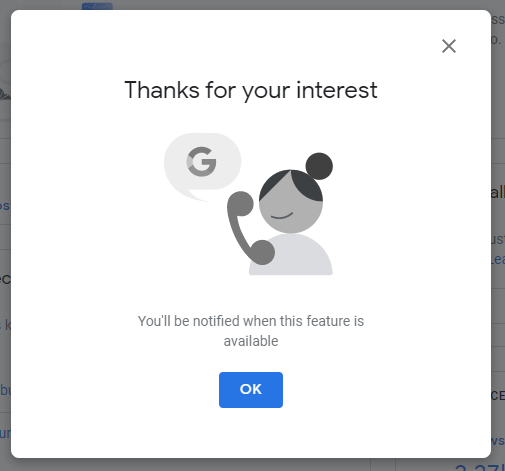 What Does Call History in GMB Do?
Based on the support page, the Call History aspect of GMB will allow business owners to keep track of incoming customer phone calls from the listing. It seems as though it will allow you to see all incoming calls and be able to return those missed calls.
This is really exciting news for small business owners! A lot of business owners struggle with being able to attribute leads to specific marketing endeavors. It's not always easy to track where your customers came from. But if the new Call History feature works the way we're expecting, it will make it a lot easier for you to recognize when a call is coming from your marketing efforts on Google.
Who is Eligible to Use Call History?
As of today, this program is not live yet. It says that it's current an experimental feature and only available for select businesses in the US. It's common for Google to roll out applications like this to specific industries slowly in order to follow it's progress more closely and gauge feedback.
It's also important to note that this feature will only be available to use in the Google My Business app, and not on desktop.
Download the Google My Business app for Apple.
Download the Google My Business app for Android.
How Does Call History Work?
When someone clicks the "Call" button on your Google listing, it will ring to your business line through a forwarded (tracking) number. That call will then be logged in the Call History section of your GMB app.
When you receive a call, it will be prefaced with an incoming message that says "call from Google".
These calls are kept for 45 days in the "Call" tab of your GMB app.
What's the Deal with the Forwarding Number?
Your Google My Business listing will still show your correct business number for clients, however, when they click the "call" button, their call will automatically be forwarded to a unique number, which will then ring to your phone.
The way this works is beneficial to traditional tracking numbers. Usually when you utilize a tracking number in order to log incoming calls, you have to put this tracking number on all of your marketing materials such as your GMB, website, etc. The problem with this is that the phone number then doesn't match your foundational NAP (name, address, phone number) information. Having consistent, accurate NAP information across all platforms is one of the most important ranking factors for your business on Google.
Because this Call History feature still lists your correct phone number on your listing, it doesn't require you to use a fake number in order to track these calls and it will protect your website from bad SEO practices.
---
Conclusion
I am really excited about the Google My Business Call History feature. There are a lot of features that Google rolls out in beta phases that never really see the light of day, but I really hope this one comes to fruition. Being able to track missed calls from a GMB will be incredibly valuable for small business owners. Not only will you be able to call back any potential calls you missed while you were working, but you will be able to attribute calls to your Google marketing endeavors and really be able to judge return on investment.
Right now, this feature isn't working, but we're really excited for it. We'll keep you updated on any news about it, so keep checking back and don't forget to subscribe to the blog.