Google Posts was unveiled in January of 2016 under the name 'Candidate Cards' as a method for political candidates to share content that would appear at the top of a related Google search. The feature was quickly re-imagined for small businesses and re-released in June of 2017 as Google Posts.
Since then, posts have been used as a way for small business owners to share information with potentials customers on their Google My Business (GMB) listing; kind of like a tweet. You can post updates, offers, products, and more.
There has been a lot of chatter around the SEO community lately about Google Posts showing up in the local pack for keyword based searches and I got curious about the possible SEO implications this could have.
Can regular Google Posts increase online visibility for a business? Or even ranking placement? If content is truly king in digital marketing, how big of an impact does Google Posts have on local SEO?
Google's Local Pack ranking algorithm uses a variety of signals to help determine which GMB listing should show first for a relevant search query. On top of them determining ranking placement, these factors are also used to easily show us why the listing was considered relevant to the search.
In the screenshot below, you can see the local pack showing three businesses related to my search, "dental crowns". Under the business information for each listing, there is a snippet of text with my search term bolded.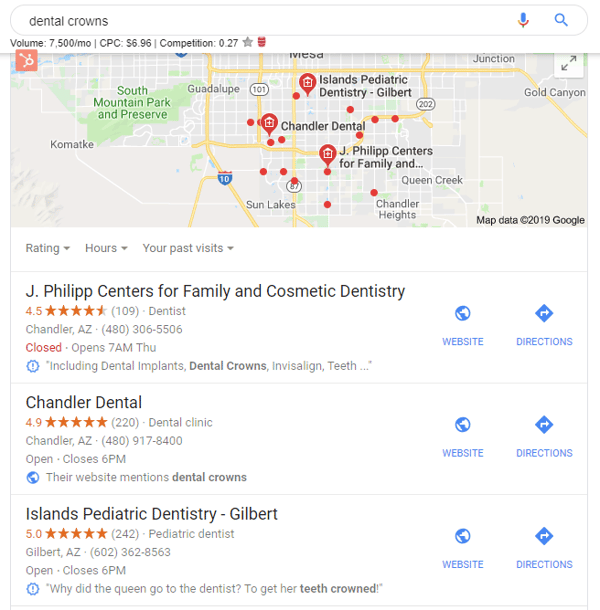 The top and bottom businesses have a snippet with an exclamation point emblem next to it. This emblem means that the content shown is from a Google Post on the GMB. The middle one has a little globe which indicates that the keyword is mentioned on the website attached to the listing. If the emblem shows a little person, that means the keyword is mentioned in a review on the GMB.
So right there, it shows us that the written content in Google Posts is being used to show relevance to the keyword and it's easy to assume that if Google sees it as relevant to the searcher, they'll see it as relevant as a ranking factor.
On one of my client accounts, I have been diligently adding new Google Posts on a regular basis in order to take advantage of any possible SEO juice that might come from it.
Below, you can see a screenshot of one of the Google Posts being pulled in relation to my keyword. Honestly, I was hoping that this post would disappear into the internet void because of my typo...

The interesting bit here is that the post being featured is actually two months old. That means that Google's algorithm is pulling data from all of the Google Posts on the GMB, not just the fresh ones!
That's exciting because I feel like there is a good possibility that using Google Posts like a blogging platform could greatly increase the opportunities for a GMB to appear in search for related keywords. The idea is that you add a plethora of content to your GMB posts, it'll be saved there and used as relevant content to searches.
If a business owner posts about a new topic at length, with plenty of keywords and geographical information, on a regular basis, they could greatly increase their opportunities to appear in the top 3 ranking placements.
Now, all of this is mostly just speculation at this point. But I would highly recommend coming up with a legitimate Google posting strategy that includes lengthy, non-salesy, articles about services relevant to your industry.
For example, if you're a plumber, write some articles about leaky pipes, clogged sinks, or the troubles of new construction piping in your city and state. If you're a dog groomer, post different articles on a regular basis about specialty grooming, trimming dog nails, or the joys of anal gland expression.
---
Conclusion
While we've always known that Google Posts was a useful tool for sharing discounts and drawing in clients looking at your Google My Business, now there is evidence to suggest that Google Posts can actually increase the chances of your GMB ranking in the first place. And it looks as though Google Posts can be just as beneficial as a source of quality content for your GMB, as a blog is to a website.
So if you have an active blog in your website, start sharing that content as Google Posts with a link to the full source. If you're not actively writing about your industry, get at it because it can mean big opportunity for your small business.