As marketing professionals, it is easy for us to get caught up in the lingo. I would take it as a compliment. It means that we're excited to start working with you and we've already started making plans about what we want to do to help your small business rank better online. When this happens, it's common for small business owners to nod and go along with everything we say without stopping us to ask for clarification. After reading this article, you'll be able to get just as excited as your marketing manager when they start talking about citation building and correction.
Ok... maybe you won't get
excited
per-say. Once you know what citations are, it won't seem all that glamorous to you.
The marketing term 'citation' is rarely understood by people outside of the marketing industry. But I assure you, citations are extremely beneficial and are one of the most important foundational elements in local SEO marketing for small businesses.
Google decides ranking placement based on the size and consistency of your online presence. The ranking placement of your website and your Google Business listing greatly benefit from a proper citation building campaign.
What is a citation?
Essentially, a citation is a mention of your business name, address, and phone number (NAP) on another website. A few citation examples include Yelp, BBB, and Yellow Book.
Why is it called a citation?
If you think back to when you were in school and required to write essays, you would have to cite your sources in a bibliography. The purpose of citing your sources was to prove to the audience that the information in your essay was procured from reputable sources. That is why you were required to use 'scholarly' sources such as textbooks and published journals. The citations for your local business work in a similar fashion.
Google uses citations as a method to verify that the information they are sharing with customers is legitimate.
What citations do I need to have?
Think about citation building like a video game. The person with the highest score wins.
Citations are given a point value of 1-100 which is referred to as an authority level. When you are running a citation building campaign, you want to get your business listed on as many of the high-value citations as possible. The more 'points you score', the more Google trusts your business. In turn, the more Google trusts your business, the better opportunity you have to rank positively in the search results.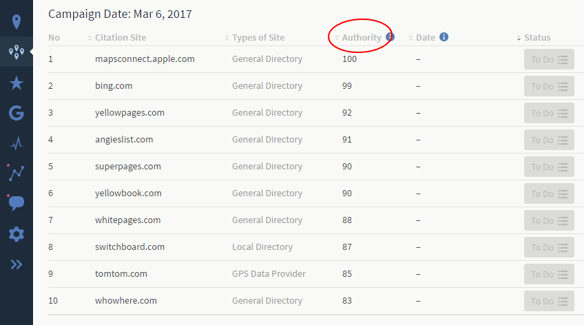 As you can see in this image, we have begun a citation building campaign for this business. We are building 10 new citations, and each of those citations scores 80+. These are all high-value citations that are necessary for this business to have a strong online foundation.
Now, not every business needs the same citations; If you're a restaurant, you don't need to be listed on Houzz.
Physical location also plays a part in what citations that Google deems necessary. For example, customers in Florida wouldn't utilize www.localfirstaz.com when looking for local businesses.
There are, however, 40-50 high authority citations that every business should have. You can find a complete list of these business directories on HubSpot.
What if I'm already listed with a citation?
That's great! Any marketer that's worth their salt will know to check which citations you already have before creating new ones.
What if the info on that listing is wrong?
Unfortunately, it's easy for inaccurate or duplicate citations to be created. It usually happens when a company working for you has the wrong information on file, a simple typo, or the creation of 'floating listings'.
When a citation site knows your business exists, they sometimes create a listing based off of what information they can scrape online. This is called a floating listing.
Here at Staylisted, we have a tool that runs an audit of your current online presence and shows us which citations your business already has, and which ones may have inconsistencies. For example, this business listed below shows us that the SuperPages citation is perfect, however, the Facebook citation is missing a location and phone number.

It's extremely important that your citations reflect the correct information. Inconsistent information causes Google to lose trust in your business. Luckily, even if you didn't create a citation, there is still some recourse to correct it.
Claim your listing

Suggest an edit

Contact your marketing agency
Not all incorrect citations can be fixed, however, as marketing professionals, we can contact the site administrators and do our best to get your citations corrected on your behalf.
Oh no... I have duplicates. What do I do now?
The first step in dealing with duplicate listings is to locate them all; so we're on the right track.
Each citation site is different, so, unfortunately, I cannot show you exactly how to correct each and every directory listing available.
However, I can show you what to look for.
Most citations have the option to suggest an edit. It could be anywhere on the page and worded in many different ways.

Once you click on that option, simply follow the steps involved. You can either suggest edits to information provided or notify them of any duplicates.
Keep in mind that this is never an instant fix. You're only notifying a site moderator that something is inaccurate and it's up to the moderator to confirm and correct it. Some suggested edits can take 3-5 weeks to be approved.
---
Concluding your lesson in citations
Once again, citations are basically mentions of your business name, address, and phone number (NAP) online. Search engines use those mentions to gauge the trustworthiness and popularity of your business and index your business accordingly. Ranking your business online is a popularity contest. Your online presence is what dictates your ranking placement and the more you can get Google to like you, the better your business will rank.
Now that you know exactly what a citation is, I hope that you better understand the important role that they play in your SEO campaign.