Service Area Business (SAB) owners across the world, rejoice! The latest updated to Google My Business (GMB) is finally, finally allowing SABs to target cities other than their own.
So what exactly does that mean?
That means that small town businesses now have a fair chance to rank in their target cities, regardless of their physical location.
You Still Need a Real Address
First things first, you still need a real address to create the listing. As always, you can use your home address and hide it from the public. Even though the address isn't important to ranking placement anymore, you still can't use a PO Box or rented mailbox. I tried it.
But Your Address Doesn't Make a Difference Anymore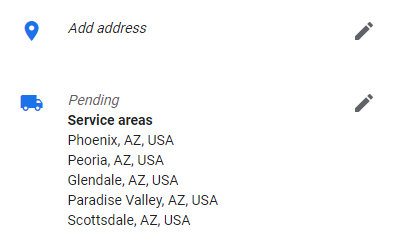 Just like before, you're still given the option to hide your address. Except now, your address doesn't appear anywhere on the listing if you choose to hide it. The only time you're forced to utilize your address is during the postcard verification process, which remains the same. So, be sure that you can receive mail at that location.
If you choose, you can still have it show your city and state and mark a service area radius around that address. But you're not locked into that anymore.
Why is that awesome?
You Can Target Other Cities (and it will actually work)
Theoretically, anyway. This update is new, and obviously we can't say how much impact it will have on ranking placement just yet. But, if it works the way it should, then that means that you can now directly target cities outside of your own.
Lets look at some examples...
Before:
You're a plumber in Small Town, TN. Your town only has a population of 8,000, so you're not likely to get very much new business in your town and you're probably already the number one plumber there. You want your business to show up in a major city where the people are.
In order to rank in a city you're not located in, such as Nashville, TN, you'd have to pull some minor trickery to make Google think your company was based in Nashville. Even with a 200 mile service area radius from Small Town, TN, you're likely to only rank within your city and the surrounding areas over time.
There were some ways around that, but they included all kinds of annoying run-a-rounds and a little sneakiness, which no one likes.
Now:
You may be a plumber in Small Town, TN... but no one needs to know that. You actively travel to Nashville on a daily basis to service your customers. So, instead of showing Small Town, TN on your GMB listing, you hide your address and put down Nashville, TN as your primary service area. Feel free to add all the towns in between too!
Instead of being stuck with a service area that correlates to your physical location, the update allows you to pick any location, regardless of it's proximity to you. No tricks, no lies, no run-a-rounds.
Why is This Good News for SABs?
Previously, the chance of a plumber 30 miles away out-ranking a plumber located in the middle of a major city was pretty slim. Now, business owners in small towns will have equal footing when it comes to ranking in large cities.
That's why this update is so huge! Small business owners from outlying cities have a large opportunity to rank just as well as big city companies. And best of all, according to this article from BrightLocal, if you designate multiple target cities, Google will rank them all equally.
That means that your "ranking signal" no longer ripples out from your physical location. Instead, Google will consider your business as if it is located in every single location that you list. In short, that means more visibility for your company in major cities.
Why is This Bad News for Small Businesses?
You're not the only service area business from a surrounding small town trying to target customers in a major city.
To continue with our example, if you're a plumber in Small Town, TN who wants to rank in Nashville, TN, I can guarantee that the plumber from PoDunk, TN, and the plumber from IttyBitty, TN, and all the other plumbers from surrounding small towns will also be targeting Nashville. That means more competition for everyone.
We predict that, due to this change, reviews will become even more important than they were before. Your star rating and response to reviews will likely be compared to your competition when Google is deciding ranking placement.
---
Conclusion
The separation of service area and physical location is going to make a huge difference in the competitive world of local SEO. Service Area Businesses (SABs), like contractors and home services, used to be fighting an uphill battle when it came to attempting to rank in cities they weren't physically located in. You were either in a major city, or you were only going to rank in your small area. But with this long overdue update, SABs actually have an equal chance to take the market in large cities, as well as their small town.
So, if you manage your own Google My Business listing, head on over to the "info" tab and update your service area to match your true target locations. And while you're at it, start working on your online reputation by collecting and responding to honest reviews.