With businesses, consumers, and your workers increasingly using mobile devices, the focus for marketing and IT is increasingly around ensuring websites, data, and services are accessible on smartphones and tablets. Mobile isn't a trend anymore, it is the landscape on which all businesses need to operate on.
When it comes to search, mobile is king, with Google changing the rules to favor sites that run well and look good on mobile devices. So, whatever the size of your business, and its ambitions, you need to pay attention to the technology change around you. Ensuring that your business and products are visible in the right places.
To that end, follow this mobile marketing checklist to ensure you are doing what's right when it comes to mobile visibility and offering the best service for your business and its customers.
1) Optimize Your Site for Mobile
If a company is behind the times when it comes to mobile and technology, the first issue any marketers should be handling is to ensure the company website is optimized for mobile. With around 80% of web traffic now coming from mobile, having a desktop-focused website will damage prospects, something that will only get worse as we approach the 2020's.
For marketers new to a business, the first task is to confirm the site's mobile compatibility. Use the Google checker on each site to find out and get pointers on improvements if the site is lacking in some way.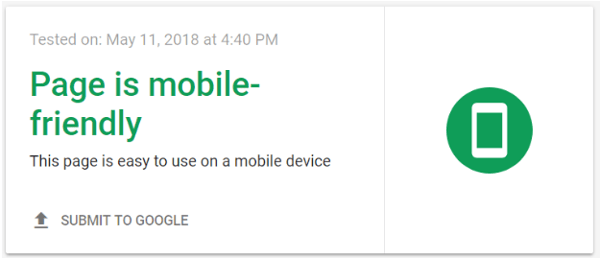 This can impact general and local search, so changing any mobile-poor sites is essential. Mobile friendly sites need to be light on dense text, images need to be clear, and no one likes wading through long lists of links.
Navigation has to be clear, while image quality has to be excellent to cater to the increasing number of devices with 4K screens. The good news is, site design tools have kept up with the times and developers can easily help migrate to a mobile friendly template, leaving marketing to migrate the messaging to mobile-friendly formats.
Responsive site design is a common answer to filling the void between mobile and desktop. Using the same text and images, but tweaking the display to best suit whatever device a site is viewed on. Responsive design helps speed up a company's new site development if using templates, or the revamping of old sites, but for custom or ambitious sites with lots of features, it creates new headaches that are probably best avoided.
2) Apps With Benefits
App developers are screaming for business in every tech hub around the world, touting the huge benefits of having an app. The reality of the situation is that businesses with niche appeal or low footfall will see minimal use from an app, and the cost of development will never be met by revenue from the app.
However, for growing businesses, or those with a unique mobile feature to sell, an app is essential to help engage with customers and sell your solutions or products. Most businesses will find that their peers and competitors have similar apps, and will need to look for at least one key feature or point of differentiation.
Marketers must be involved in the process to ensure the app helps promote the business or brand in the right way. It also provides opportunities engage directly with customers, and create the businesses' own little platform for users to help with exclusive offers, information and other content that marketing can provide.
Build Your Own App Today
If your business lacks the funding to hire an expensive app designer, then there are many tools available to help build your own app. Most apps fall within a few categories, and design templates help making and launching the app a fast, effective exercise for launch.
Marketers can focus on app store optimization, social media marketing, and getting the app seen among the business's peers to help drive interest and adoption. Services like Appinstitute provide template-led design, branding tools and publishing services to help any business get its app in stores effectively.
Once launched, the business will need to promote the app across social media and directly to customers to ensure there is uptake. Further engagement is essential to prevent the app becoming a zombie, with interesting content, offers or other sweeteners to keep people using it. All of this needs to be part of the strategy to ensure continued use.
3) Rise of Progressive Web Apps
Halfway between apps and websites lives the progressive web app, a recent(ish) technology that borrows from the best of both worlds. The key advantage is that a web app doesn't need to go through Apple or Google's approval processes every time there is an update. This helps keeps costs low and speeds up development time.
However, web apps can't use of all a phone's features like fingerprint login, or easy access to Facebook, and other social media apps. Marketers should perform a rigorous investigation before going down the progressive route before recommending it as an option.
4) Fast Sites Have the Best Response
Whatever features your app or site has, the key is to address your clients' needs and to meet their expectations when it comes to user satisfaction. That means sites have to be fast to load, content must be easy to find, and apps must be slick and efficient in design and operation
Research suggests that 40% of users abandon a site if they have to wait more than three seconds, so consider that before adding intensive video or rendering features to any site or app. Accelerated Mobile Pages (AMP) is one way to update sites to load faster on a mobile device, especially WordPress sites.
---
Conclusion
Whatever your business, your customers are increasingly mobile ones, and meeting their needs should be a key priority, especially for any company that has sat with the same old desktop site for a few years.