Getting a start in digital marketing can be tricky. The marketing jungle is a whole 'lotta buzzwords and industry jargon. So how are you supposed to start on the path to Marketing Guru if you can't hack your way through as a Marketing Noob?
That's where we come in.
As I've said before, I strongly believe that educating small business owners about marketing is empowering them to make smart choices for their brand. That's why our blog has always been dedicated to educating small business owners about marketing their business online.
However, it's recently come to my attention that we may have been jumping from 1 to 100.
How can I expect every beginner to easily understand and utilize the information we provide if they're still mastering level one?
That's why we started Level Up! This is a series of short videos that help explain marketing terminology and tactics to people just starting on the journey to market their small business.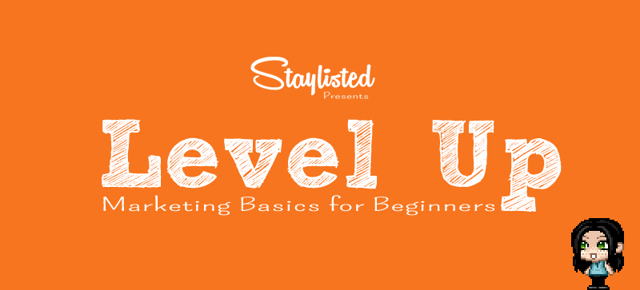 Here's the deets:
Who
You, or anyone, looking to learn the basics of marketing before diving into advanced tactics. It's always good to start with a strong foundation before spending money all willy-nilly.
What
Because we know you're a busy business owner, we've decided to present the information in two ways.
First, each topic will have a short video that's under five minutes. Second, for those who prefer to read, you will find corresponding articles attached to the videos.
When
I don't like to lock myself into huge commitments. I don't know what that says about me as a person, but it is what it is. That being said, I am going to do my absolute best to have new content for you every week.
Where
Videos will be hosted on YouTube, but also embedded on the corresponding blog articles posted here.
Why
Honestly, we want you to understand what it is that we do. Not only is it much easier to explain advanced marketing to someone with knowledge of the basics, but you'll always be happier with the results when you have the right expectations.
How
Sheer awesomeness from my office in sunny Phoenix, AZ.
---
Conclusion
So, you don't know what a 'backlink' is? No problem. Not sure what a 'sitemap' does? Don't sweat it. Overwhelmed by the acronyms? CTA, PPC, GMB, LSA... It's all gravy.
We've got you covered with our new vlog series, Level Up: Marketing Basics for Beginners.
If you haven't yet, subscribe to our YouTube channel for new videos, fresh off the vine. Best of all, you get to look at my pretty face every week!