Email marketing is a proven way to attract and retain customers because of its ability to send very specific messages directly to prospects' inboxes. It can be a great way to build long-term value for your brand. However, its real power lies in your ability to segment your email list and send the right message to the right consumer. When you add automation to the mix, you can also ensure that you target them at the right time.
For example, if a customer has just left your site without buying, a well-timed email encouraging them to return could be just the nudge they need to complete their purchase. In such a situation, you would use a drip campaign that lets technology do the hard work. Just create the email sequence once, and then set the conditions when it should be triggered.
This guide will look at the five types of drip campaigns that your business should be using and how other brands have used them to build loyalty.
Let's get started!
What is a Drip Campaign?
Drip campaigns are automated email marketing at its very best. It sends out multiple emails at specific times and dates throughout a specified period. The emails can also be timed according to the actions and behavior of your customers. For example, if they have just abandoned their cart on your site, you can send an email drip campaign encouraging them to complete the purchase.
Drip campaigns get their name because they "drip feed" a message to your customers one message at a time, nudging them closer and closer to taking a specified desired action. They are a critical part of any marketing campaign because they allow you to target your customers with the right messages at the right time. Automation ensures efficiency without dedicating more time and resources to running a campaign manually. For example, you can create email templates for gmail well in advance for specific scenarios and leave them to run on autopilot.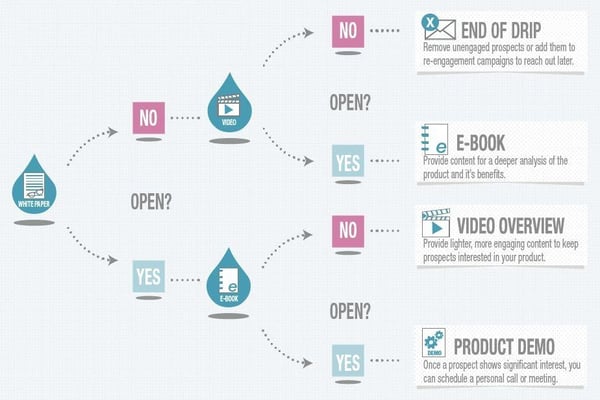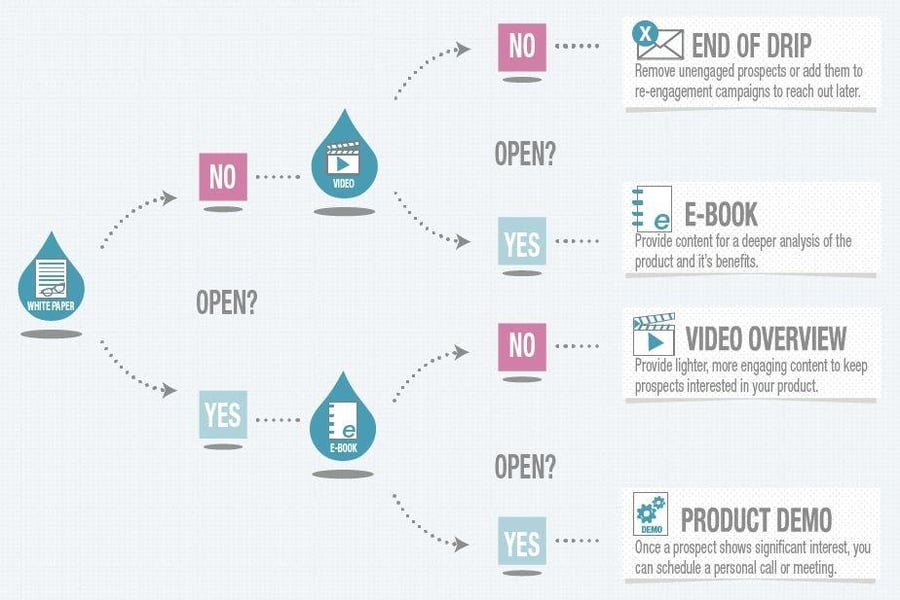 Source: Zapier
Drip campaigns can help you drive engagement as they allow you to send customized emails. Instead of sending the exact same email blast to all the subscribers on your email list, you can segment them into different funnels based on their demographic data, behaviors, or buying process. You can then send highly targeted emails.
5 Types of Drip Campaign You Should Be Running (With Examples)
This section will look at some of the drip campaign formats that can help your business grow. You can start using them right from when you get a new subscriber until after the purchase has been made, and even beyond. These automated email campaigns are designed to target the consumer wherever they are in their purchasing journey and allow you to personalize your message to drive more conversions.
Use the email drip campaigns as a way to move away from the hard sell and instead focus on the value of your business and how you can help your customers fulfill their needs.
1. Welcome Email Campaign
A welcome email sequence is a perfect way to introduce your business to a new subscriber. Aim to be specific and provide links to key landing pages to drive more traffic to your site. This enables you to make an excellent first impression and can help you pique your customer's interest. This opening email series will often decide if you get demoted to the spam folder or if the customer hits "unsubscribe", so use this chance well.
A study by CheetahMail estimates that welcome emails bring in four times the open rates and five times the click rates compared to other bulk promotional emails. One of the reasons for this is that welcome emails tend to have enticing offers for the new subscriber.
Pro tip before you get started: create a new gmail account for your email marketing so that your welcome emails come from a specific person. Even though it is an automated sequence, your message will get a much better response when it seems like it is coming from someone in the team.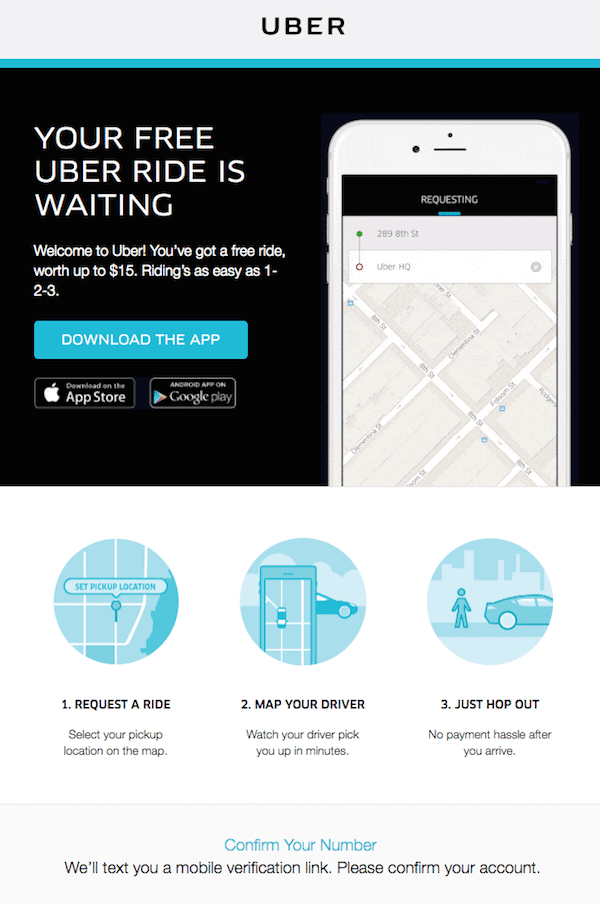 Source: Instapage
Uber's welcome email is the perfect mix of incentive and clarity. The company offers a free ride for the new subscriber and tells them precisely what the business can do for them. It also clearly states the next steps for the new customer - confirming their phone number in this case.
The welcome email sequence is your first attempt to reach out to the consumer. Avoid cramming too much information into the email, and keep it clean and readable. Like Uber, try to incentivize the first purchase with an offer and provide clear instructions to the subscriber.
2. Retargeting Email Campaign
Retargeting email campaigns are an effective way to convert your leads into customers. They allow you to send customized emails to your customers based on their online activity. Retargeting can be used in various ways. If you've ever browsed a site and then later seen an advertisement for that site's products on a website or social media page, chances are you've been retargeted.
One way to use retargeting drip campaigns is to send a follow-up email when a customer lands on your page but leaves without making a purchase or signing up for your services. Choose the customers that are most likely to benefit from a follow-up mail based on their online actions.
Source: Grow code
Take a look at this campaign by Uniqlo that uses the customer's browsing history to inform them when a product they love is discounted. It is the perfect way to drive sales as you already know that the customer is interested in the product. By letting them know that the product is now available at a discounted price, you are giving them just the incentive they need. You can use their wishlist or "save for later" list to segment the customers and trigger the email when you put the products on discount.
3. Abandoned Cart Campaign
Abandoned carts are one of the biggest concerns for any online retailer, with Statista estimating in a study that about 88% of carts are abandoned across industries. But this can also be a chance for you to run drip campaigns that give your customers an incentive to complete their purchase and increase engagement.
Send out an email whenever a user puts items in their cart but doesn't check out. You can highlight your products' benefits, give them an incentive to come back such as free shipping, or provide additional information about the product.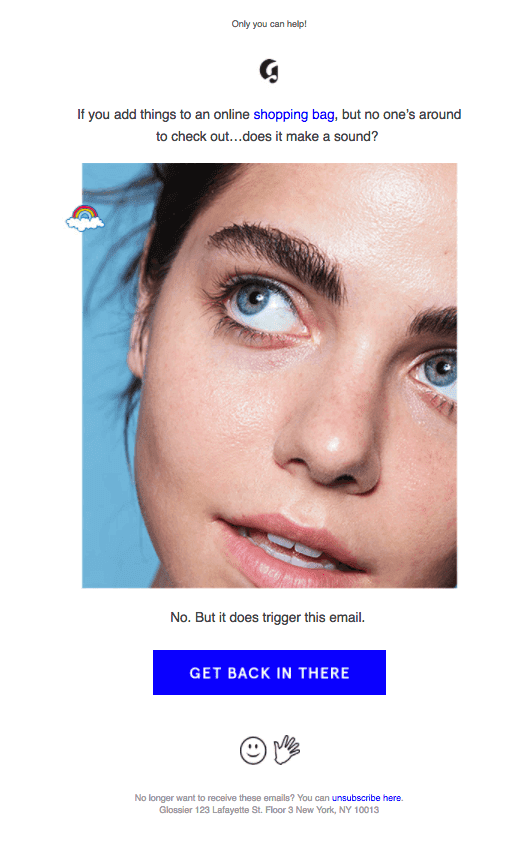 Source: OptinMonster
Add a little humor to your drip campaigns with emails like the one above, from beauty brand Glossier. They subvert the standard "abandoned cart" sequence by openly stating it is a triggered email. It is a fun twist on the theme and ties in with its broader brand identity, which is playful and irreverent.
It also shows that the company is not going for the hard sell and are aware that their customers are smart people who know automated emails when they see them. It is no wonder the brand has a huge following; check out this Forbes article on how Glossier's excellent customer experience practices, including using great content to build loyalty.
4. Post Purchase
Drip campaigns are not just a way to get more sales but have been proven to be a great way to retain existing customers. One way to keep your customers happy is by continuing to reach out to them even after the sale. The post-purchase email is an excellent way to continue engagement with the customer and increase the likelihood that they will buy from you again. Just take a close at your sales pipeline and look for the customers you have closed earlier. They are the perfect audience for this campaign.
In a study, Emarketer estimated that email marketing can boost your retention rate to as high as 80%. The main reason your customers will come back to you is brand loyalty, and the only way to build that loyalty is through consistent, targeted communication at all levels. When you continue to engage with the consumer even after the sale is made, it enables you to build trust.
You could invite them to join your brand's loyalty program or offer deals and discounts that can be availed with repeat purchases. It is also a chance for you to cross-sell and up-sell by showing products related to their purchase. For example, if they purchased a laptop, you might offer them a special deal on suitable laptop cases. Another way to drive the post-purchase conversation is by asking for feedback and inviting them to leave reviews of the product they purchased.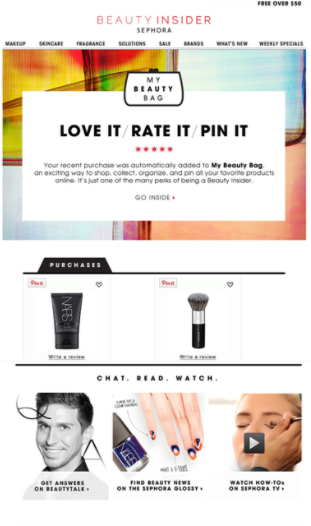 Source: Smartmail
Take a look at this interesting post-purchase email from beauty brand Sephora. They have a clever name for your order history: beauty bag. The brand gives subscribers actionable content in the form of three ways to share and rate their purchases. The company also goes one step beyond the usual post-purchase mail and even includes tips and how-tos in the form of make-up tutorials to help buyers use its products.
5. Unsubscribe Campaign
Another way drip campaigns can help you retain customers is by enabling you to follow-up with customers leaving your mailing list. Not all your customers are leaving because of your content; some may want to receive fewer emails in general or might be more active on another platform. An unsubscribe drip mail should aim to cover these common reasons and ascertain why the subscriber is leaving you. Some ways in which you can execute an unsubscribe campaign include:
The short "We are sorry to see you go" with a dash of humor
Send out a survey to ask them what went wrong and seek answers to inform your future strategy
Encourage them to stay connected with the brand on other platforms like social media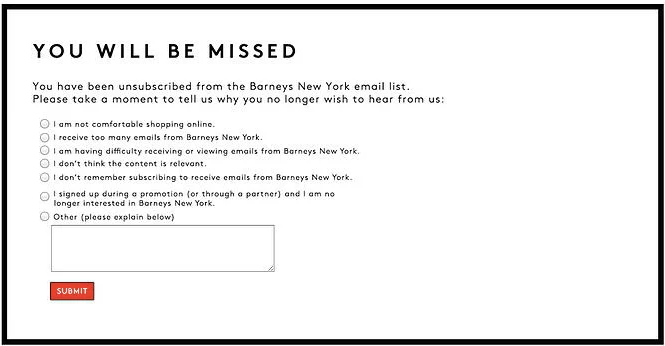 Source: Hubspot
Take this email from luxury department store Barneys New York, which includes a survey to determine why the customer is unsubscribing. It enables the company to get insight into their customers' minds and why they no longer find their emails useful, creating a better content marketing plan in the future.
---
In closing
Drip campaigns are a great way to send the right message to your audience at the right time to drive conversions and build brand loyalty. Use these automated emails as you welcome new customers to your brand, and use their online activity to send targeted emails based on their preferences and behavior on your site.
These emails also help you tackle one of the most common problems in ecommerce: cart abandonment. A well-timed email could help you avoid losing those sales. Don't forget to continue the conversation even after the purchase with a quick survey, recommendation, or relevant offer. The final type of drip campaign targets those customers who unsubscribe from your email list. Look at it as an opportunity to learn the why behind their decision and give them options to connect with you on other platforms.
With these tips in mind, you will be able to create a strong email marketing campaign. So, what are you waiting for?